Managed vs unmanaged servers ! Which Need to select for your business?
Nowadays most of the people are actively looking for new opportunities to develop their market potential with their brand products applying the online mode. This process implies that they are literally improving in the marketplace. They could increase their traffic and required aspects with which they could respond to the requests from the analysis of their results. Every one has curiosity which one is better while hosting managed vs unmanaged servers.
Dedicated server hosting services are good for large organizations or websites with much higher traffic. The client can have the opportunity to control his server, which allows him to access his respective area. Dedicated server hosting services are available in a managed and unmanaged form. In managed, hosting providers manage the server for the client in case of any issues. Dedicated managed servers are usually more expensive than other hosting services. The price depends on the capacity of resources, the volume of RAM and other things. Free alternatives to other paid software are available at this stage. The main exception to the preference for Paid vs. Free Software is the widespread use of Linux on Microsoft or other paid operating systems on the servers.
Managed dedicated server
In a fully managed dedicated server, the client can have an entire server without sharing with anyone else. This provides the organizations with more flexibility and independence over the server controls including the operating server and hardware. Dedicated managed servers are present in data centers, powered by redundant power sources. The use of a dedicated server ensures high performance, stability, security, and control. However, due to the higher pricing of a dedicated server, this is mostly used by an organization that receives high traffic on their website. In a managed dedicated server, all the server maintenance, management, and technical work are done by the hosting provider.
The dedicated server hosting service delivers the pure, integrated results of the latest silicon technologies and reliably frees you from security issues and complicated issues. Managed Dedicated Hosting is a complete suite of services including the latest server platforms, disk space, Ethernet bandwidth, operating system, antivirus, public IP and monitoring services. This could be further enhanced by a wide range of add-ons. All services monitor on an OPEX model.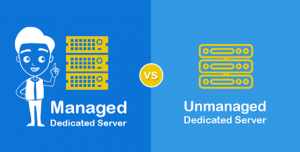 Continuous growth: If your business requires more resources, with managed hosting, you can receive it on the same day. With unmanaged server, it can take some days to get a new server setup and functional for business. This increases customer satisfaction and helps your business growth in the long run. You don't have to focus on technical stuff your service provider will do it for you. You can focus on your core business.
 Expertise and security: Customer data protection is very crucial for business and should be a top priority. The managed server runs virus scanning, firewall configuration, the spam filtering in scheduled intervals. The OS is updated and security audit is performed from time to time. This makes sure the security vulnerabilities are identified before the servers are attacked. With a fully managed dedicated server, you can concentrate on the business goals without worrying about server management and performance.
If you have unmanaged dedicated servers, you might need to hire database admins and system admins to manage the servers. However, choosing a fully managed dedicated server transfers the server management to the host and saves you operating cost.
Complete administration control: Even you are on managed hosting you have   complete root administrative access.. Users can install programs, make changes and customize program configurations as per need. It also allows monitoring the usage of resources in the server.         
High-speed connectivity: Dedicated server hosting is becoming popular due to the unmatched speed and high bandwidth. Dedicated servers are located in a data center environment, so high bandwidth is available via large carriers. The business clients take advantage of this low-cost bandwidth ensuring high quality. Also, the bandwidth can be adjusted as per client needs, which help in managing costs.
Monitoring: In a managed server, proactive detection of threats ensures that your server remains protected. This does not require you to keep a 24*7 support team to monitor and administer your servers.
Backups: A reliable host should have proper Disaster Recovery (DR) strategies in case of failure. So, your data remains protected and you do not need to worry about losing any customer data in the unforeseen event of failure while you are on managed hosting.
These are the basic operations for you to be sure of your best performance. The most important thing is that you understand how to do it yourself before engaging the unmanaged dedicated servers option. These points are sufficient to maintain the perfect dedicated server.
 Let's discuss about the unmanaged dedicated servers
Unmanaged Dedicated Servers
In an unmanaged dedicated server, the hosting provider takes care of the hardware setup, installing the operating system and maintains software. The client needs to take care of configuration, firewall, script installation. This is a good and inexpensive solution for those who have the good technical knowledge and can take care of the installation. Also, it provides the option for choosing any number of applications and tools. So, the processing power, storage capacity, network security patches can be customized as per requirement
Dedicated servers offer many benefits, for maximum leverage (or in terms of unmanaged servers), basically you need to know how to manage the server. The main thing is to provide the right time and to have the skills for managing it on your own.
These are the key points for unmanaged dedicated servers hosting.
Root access: The developer has administrative level root access. This allows the developer to edit any file on the server and also to install/upgrade any software.
Linux OS: Users can choose from versions of CentOS, Fedora, Ubuntu, Gentoo, and Slackware. Linux system administration knowledge is required.
• Installation of the software of your choice required for your business.
• Server configuration according to the needs of your website
• Monitor server performance continuously
• Monitor and update databases frequently
• Update the operating system
• Install anti-virus software and firewalls. Update and maintain them
• Store your daily or weekly data
• Update all server applications frequently
• Monitor and verify applications for all failures
• If there is a problem, you must resolve it as soon as possible to prevent it from getting worse.
• Take and install all security measures to detect and prevent any type of intrusion.
• Audits and periodic audits to monitor the safety of the equipment.
Key differences between Managed and Unmanaged Server
On a managed server, the host supports every problem either emergency or routine. The operating system, server control, and all installed applications are maintained by them. Automated backup and monitoring are often enabled for managed servers.
In unmanaged dedicated hosting, there is no routine support. Replacing of failed components, rebooting server, maintaining the network connectivity are managed by the host. However, the operating system and all the software must be installed by you and you are responsible for installing every security patch and handling any error. 
Dedicated servers gives freedom and very serious support facilities for business owners but the cost is always will be high nearby 70USD to 200USD based on the server configuration and managed vs unmanaged servers options. Even some times you can consider clearance dedicated servers that really helps to manage the budget project. But it is not really affordable by small and micro business owners. If your hosting budget is less and you are looking for similar kind of flavour then they can go for Virtual Private Servers (VPS) this will be available from 20USD to 50USD based on VPS configuration and managed vs unmanaged VPS options. Virtual servers are designed to function like dedicated servers in a shared hosting location. These are more private than a shared hosting server as well as less expensive than a dedicated server to your organization.
VPS allows one physical machine to host multiple virtual servers with their own operating systems. As each user possess their own operating system, no other website can access any files and security is improved. Each virtual compartment behaves like independent servers. However, a website that receives a very small amount of traffic do not need to have VPS, and shared hosting might be a better and inexpensive solution. For an active website getting around 35 million hits a day, VPS is a good alternative to having a fully dedicated entire server. There are two types of VPS:
Fully Managed VPS
In a fully managed VPS, the provider has the responsibility of managing and maintain the server. This is a necessary solution for those who have a very big business setup to take care of, so it is better if the server management is outsourced to a provider. Also, if your team does not have technical resources to take care of your own server, fully managed VPS is a good option. A fully managed VPS is a server that is installed, arranged, verified, and updated by a hosting expert. To be secure, a VPS needs to be updated with the security patches. Whatever product is installed in the OS like PHP, Apache, SQL Server, needs to be kept updated with the latest version. Also, any issues in installation or server updates are managed by the system admins.
Self-managed VPS
These are the private servers where the provider does not provide any management or maintenance. So, it is up to the users on how to manage the private servers. This provides a higher degree of freedom over fully managed VPS. Also, this is less expensive and users which technical knowledge can opt for this.
Managed vs Unmanaged servers, which one to choose?
This solely depends on the traffic on your website, how much your business depends on your website. Also, the technical expertise that is present in your organization is the deciding factor of managed vs unmanaged servers. If your team can handle all the installations and troubleshooting, then opting for an unmanaged server may be a better idea since there is more flexibility. Also, it is a much cheaper solution than a managed server. However, if you have a budget for managed Dedicated Server  , this provides benefits like high security, more server stability and total control over your server's configuration.
You can look for clearance dedicated servers that is even cheaper than normal unmanaged but getting clearance dedicated servers is bit difficult.
If your budget is less than 70USD then you can go for Virtual Private Servers based on above facts which supporting you.
Shared Hosting , VPS Server ,Dedicated Server which one to choose?
If you find that a shared hosting platform is inadequate for your business needs, managed VPS hosting is maybe the one you need. Though there are many advantages of an entire dedicated server, you should avoid it unless you have the absolute necessity. Following are some of the factors you might want to consider before spending on a dedicated server:
A dedicated hosting server can be extremely expensive. Also, before availing such a platform, you need to work on the resource allocation and it takes a lot of time. So, plan carefully considering the time you have in your hand.
A dedicated hosting platform needs technical expertise for server management. If you do not have such experience or you do not want to hire a team, VPS might be a better option in such scenarios.
If you want to build a brand as part of your plan, dedicated hosting is ideal for that. If this is not the case, it might not be a good idea to spend much.